STORY
Experience the world of DOA5 and its cast of characters in Story Mode.
In addition to defeating opponents, players can test themselves against
bonus missions. The ferocity of opponents changes depending on the
player's skill, creating intense action.
FIGHTING
Offline modes, featuring Versus, Arcade, Time Attack, Survival etc.
ONLINE
Various competitive online modes.
Features modes not available in previous Dead or Alive games.
EXTRA
A variety of non-fighting features - Spectator Mode, view titles etc.
OPTIONS
Adjust various settings, such as control method.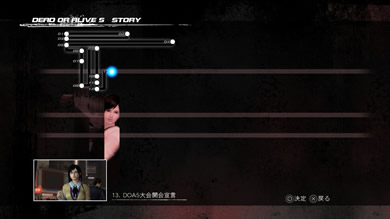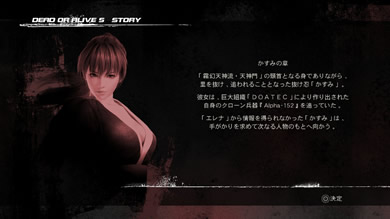 The chart on the left shows the progression of the story. Its vertical axis indicates the various characters' chapters, and its horizontal axis indicates the time. As you can see, the game's incidents can be experienced from different character's perspectives, adding an extra layer of enjoyment. A summary of events so far is displayed before each chapter, making it easy to grasp the flow of the story.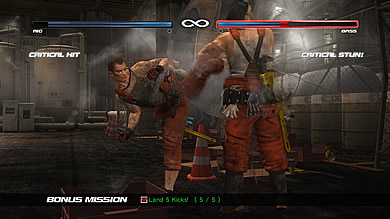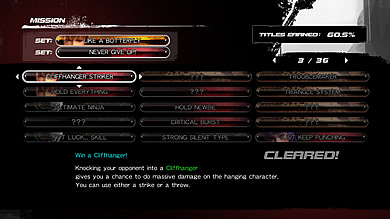 Bonus missions occur during Story Mode battles. Completing the missions grants titles and the player can view a list of these. Fulfilling certain objectives results in extra missions becoming available. There are many different kinds of titles and the player may choose up to two of these to create a combination that best expresses his or her personality.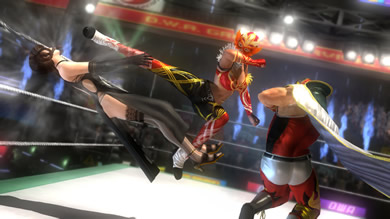 In a Tag Match, characters fight each other in teams of two, with up to four players taking part.
Unique features not available in one-on-one battles include "Tag Combos" which allow a character to continue their partner's combo, and "Tag Throws."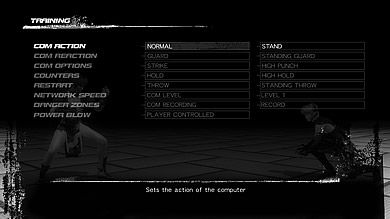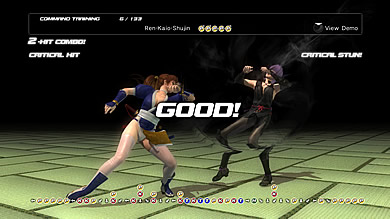 Training mode, including more features than the previous DOA. A wealth of options are now available on the settings screen for players to adjust the AI opponent's behavior - opponent control, input recording, fast recovery from staggers etc. Use Command Training to view examples and learn each character's moves.

Tournament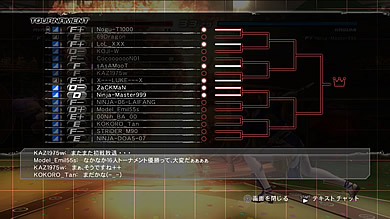 Up to 16 players can take part in online tournaments. Players can also organize and host their own tournaments.
Spectator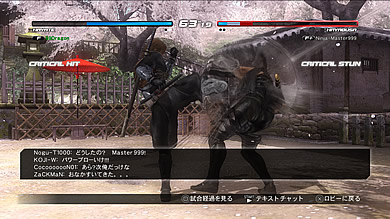 Chat with other players while watching online battles.
Rank Match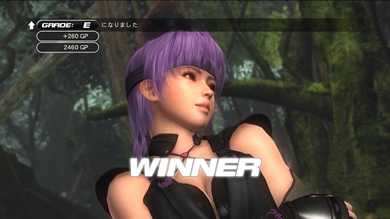 Earn points by winning Rank Matches to improve your Grade. Points are only earned in Rank Matches, so you can enjoy the other modes without worrying about your Grade.
Fighter List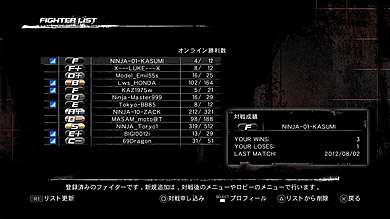 View a list of other players you have registered. Not only can you check your battle history with each opponent, you can also challenge them to battle at any time. Find a good opponent online? Register them in the list to fight again anytime!
Throwdown Challenge
If you receive a challenge from another player during battle, the Throwdown Challenge icon will be displayed on the bottom-right of the screen.
Online Dojo
An online training mode where you can practice with other players!
Share on Facebook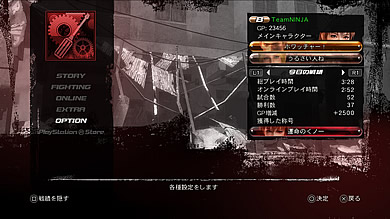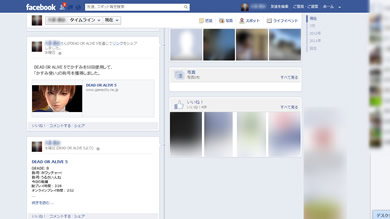 You can check your titles and fight record at any time from the Main Menu. You can also post titles you get or share your fight record on Facebook for all your friends to see!